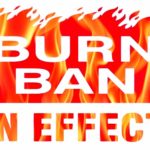 In session Monday morning, February 1, Brown County Commissioners voted to reinstate the countywide ban on outdoor burning.  County Commissioner Joel Kelton read the order.
"It is hereby ordered by the Commissioners Court of Brown County that all outdoor burning is prohibited in unincorporated areas of the county for 90 days from the date of the adoption of this order unless the restrictions are terminated earlier."
Contact your local fire department or county commissioner for clarification.