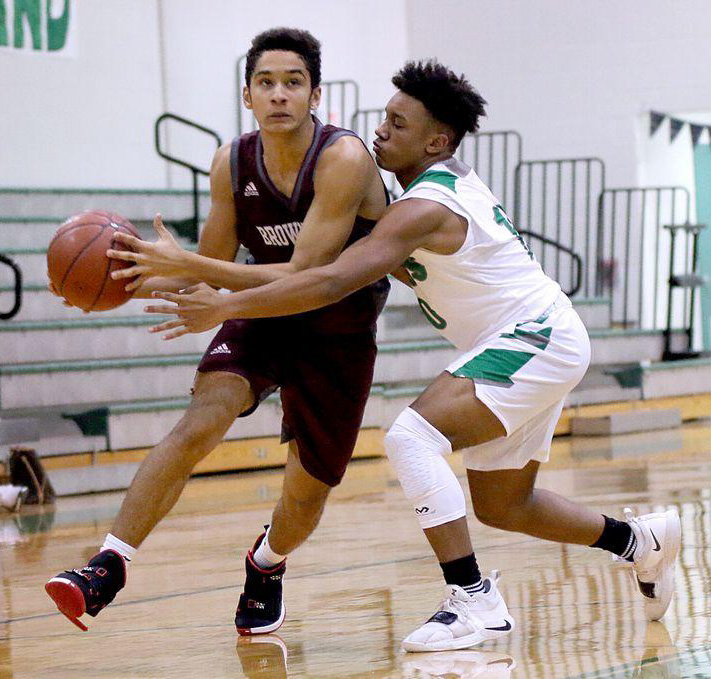 Following consecutive district championships on the basketball court, the Brownwood Lions are starting from scratch in a sense this season, with only two members of last year's squad back.
The Lions tip of their 2020-21 basketball campaign at 6 p.m. Tuesday at Brock.
"Last year we were very senior heavy and will only return two varsity players, Nathan Wheelington and Asher Choate," said Lions fifth-year head coach Nadir Dalleh, who owns an 88-42 record at Brownwood and a 138-77 overall mark in seven seasons. "The rest of the roster spots will be filled up with our junior varsity players. I've been very lucky to have Derrick Stacks work with the JV and over the course of the last two years the JV has only lost four games, including going 29-0 last year and winning our small school varsity division at the Texas Bank Holiday Classic. My expectations are to continue to build on what we have done in the past couple of years."
Wheelington and Choate will be called upon to lead the younger players and will play key roles getting the new additions to the roster up to speed, according to Dalleh.
Newcomers to keep an eye on include juniors Bryson Monroe, Jakob Hataway, Christian Kinzler and Luke Moss, along with seniors Zach Porter, Antonio Salinas, Michael Felts and Bryan Healer.
"The juniors all started on the JV the last two seasons," Dalleh said. "They were key players in that group's success. These kids are fun to watch because they play well together and love to run the floor. The seniors will also be called upon to play some big minutes."
Among the greatest strengths for this year's squad, Dalleh listed, "our size and court knowledge. The guys run the floor well together and have played together for the last two years and hopefully that will continue at the varsity level."
In terms of areas that could still use some work, Dalleh said, "We will need to improve on our varsity experience. Most of these guys haven't had that experience and there is a big difference in the two levels. We have some tough teams before district starts and I'm hoping those games will get us ready for district play."
Following the season opener, the Lions will tangle with Dublin, Alvarado, Jim Ned, Wall, San Angelo Lake View, China Spring, Cisco, Abilene Cooper, Aledo, De Leon, Snyder, Wichita Falls Rider, Crane, Granbury and Sweetwater in pre-district action.
"We have to gain experience at the varsity level," Dalleh said of the pre-district goals. "We have a tough pre-district schedule and will have no choice but to learn to compete at the varsity level. There will be some rough games and we are going to have to learn from that and continue to improve every day."
The eight-game District 6-4A schedule tips off Jan. 12 against Gatesville at Warren Gym.

"Glen Rose returns the most players and will be very tough along with Lampasas," Dalleh said. "Then you throw in rival Stephenville and Gatesville. It will be a very tough district race and hopefully with our pre-district schedule, we will be ready."
The Texas Association of Basketball Coaches listed Glen Rose as the District 6-4A favorite followed by Lampasas, Brownwood, Stephenville and Gatesville.
Regarding the potential of the Lions this season, Dalleh said, "We have to learn to compete at the varsity level. If we can use the pre-district schedule as a chance to get better and grow, I think we can compete for the district championship. Staying healthy is going to be a huge issue, not only with COVID but with injuries as well."
Brownwood Lions Basketball
Varsity Schedule
N17 at Brock, 7:30 p.m.
N20 at Dublin, 7:30 p.m.
N23 at Alvarado, 1:30 p.m.
D1 Jim Ned, 7 p.m.
D5 at Wall, 3 p.m.
D8 San Angelo Lake View, 6:30 p.m.
D11 at China Spring, 7:30 p.m.
D12 Cisco, 3:30 p.m.
D15 at Abilene Cooper, 7:30 p.m.
D18 at Aledo, 3:30 p.m.
D19 De Leon, 1:15 p.m.
D22 Snyder, 12:30 p.m.
D29 Wichita Falls Rider, 3:15 p.m. (at Brownwood Coliseum)
D30 Crane, 1:15 (at Brownwood Coliseum)
J5 Granbury, 6:15 p.m.
J8 at Sweetwater, 7:30 p.m.
*J12 Gatesville, 7:30 p.m.
J15 OPEN
*J19 at Stephenville, 7:30 p.m.
*J22 at Glen Rose, 7:30 p.m.
*J26 Lampasas, 7:30 p.m.
*J29 at Gatesville, 7:30 p.m.
F2 OPEN
*F5 Stephenville, 7:30 p.m.
*F9 Glen Rose, 7:30 p.m.
*F12 at Lampasas, 6:15 p.m.
* District 6-4A Game