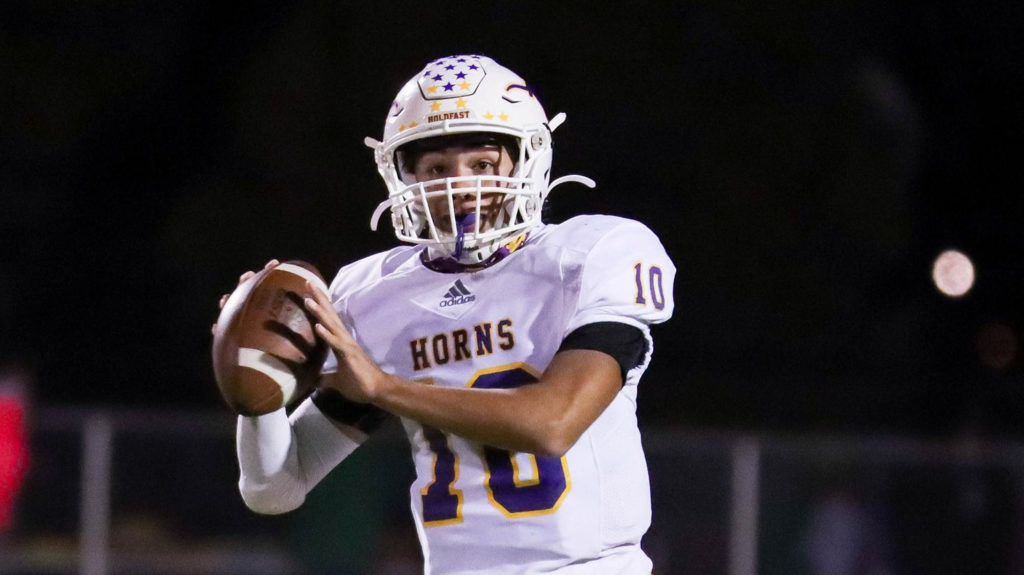 STEPHENVILLE – The Early Longhorns' first postseason appearance since 2008 was short-lived as the No. 1 Brock Eagles notched a 42-7 victory in Region I-3A Division I bi-district playoff action at Tarleton Memorial Stadium Thursday night.
Early (5-6), the fourth seed from District 3, surrendered 21 first-quarter points to Brock (11-0), the District 4 champion. The Eagles added single touchdowns in each of the final three quarters, while the Longhorns avoided the shutout with 3:40 left in the contest.
Longhorn quarterback Jaxyn Price tossed a 5-yard touchdown to John-Stewart Gordon, and Franky Villarreal booted the extra point, for Early's points.
Early manufactured 226 yards of total offense – 152 through the air and 74 on the ground – with one turnover. Price completed 17 of 37 passes with one touchdown and one interception, while Alex Jacobs rushed for a team-high 40 yards, Price chipped in 24 and Tre Beam finished with 10 yards on the ground. Leading receivers included Beam with six catches for 53 yards, Caleb McCullough with three for 37, Gordon with three for 24 and a score, Jeremy Brown with two for 16, Jacobs with two for 15, and Tyson Tyler with one grab covering 7 yards.
Brock finished with 464 total yards, including 361 rushing as Cash Jones led the charge with 143 yards and two touchdowns, Myles Semas added 84 yards and a score, and Chris Palfreeman finished with 41 yards and reached the end zone once.
Through the air, Jaxon Gleaton completed 8 of 11 passes with two scoring strikes of 27 yards to Nathan Jones and 12 yards to Carson Finney. Cash Jones led the Eagles with three grabs for 35 yards.
Next up for Brock is either District 1 runner-up Denver City (6-4) or District 2 third seed Littlefield (3-6), who play Friday night at Lubbock Cooper.