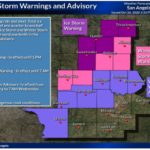 (From KOXE meteorologist Randy Turner 6:00 am Tuesday)
We are waking up to temperatures this morning between 31 and 33 degrees in Brown County.  Light precipitation is falling, mainly rain sometimes mixed with sleet or light snow. Wind chills are in the middle 20's.  The main concern is ice patches developing on bridges and overpasses but most roads are just wet from the rainfall.  TxDOT is indicating the Cross Plains area has ice on Highways 206 and 279.  Roads are also icy in the Abilene area. Here is what to expect today.
Temperatures will continue to hover between 31 and 34 degrees through noon or early this afternoon.   Temperatures warm to between 34 and 38 by late this afternoon.  The wintry mix of precipitation will continue over Brown, Coleman, Callahan and Eastland counties through around 1:00 pm when temperatures warm up enough that the precipitation becomes only rain this afternoon.
Overnight lows Tuesday night will remain above freezing and stay in the range from 34 to 38 degrees.  There is a 100% chance for rain tonight and thunderstorms, not expecting any ice on roads tonight.
Highs Wednesday from 47-50 degrees.  The rain should come to an end on Wednesday by around Noon.
Lows Wednesday night upper 30's.  Clearing.
Highs Thursday back into the 50's with sunshine.