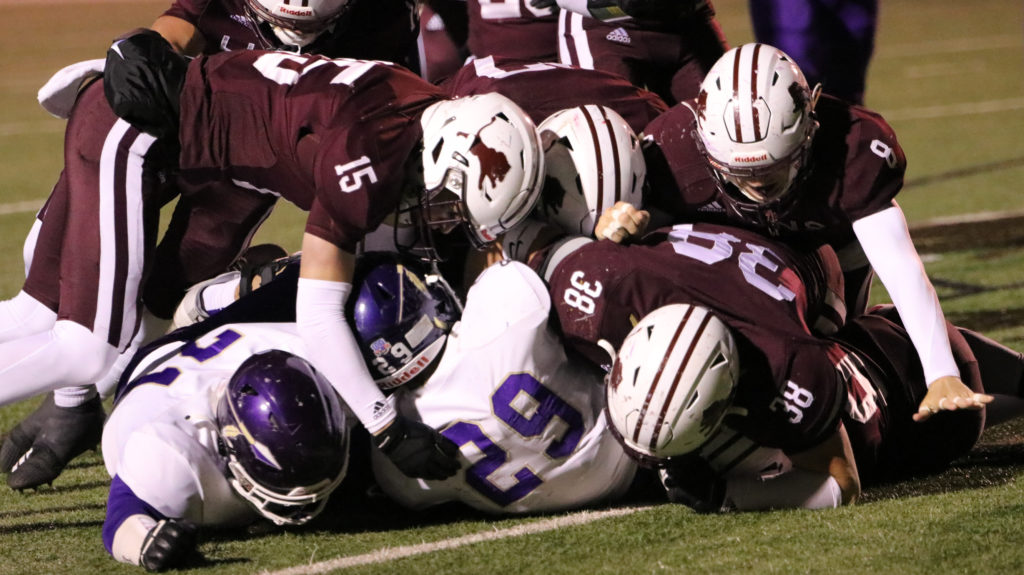 The fourth and final team to represent District 5-4A Division I in the playoffs will be determined at 7:30 p.m. Wednesday as the Brownwood Lions visit the Waxahachie Life Mustangs in the first meeting between the two schools.
The Lions (3-4, 1-2) – who this past Friday played their first game since Oct. 2 – are coming off a 47-14 victory over Alvarado. The only league win for Waxahachie Life (2-6, 1-3) also came against Alvarado by a 20-14 count on Oct. 9.
"We have to win and they know they have to win if they want to get in the playoffs," said Lions third-year head coach Sammy Burnett. "That's the bottom line. Whoever wins will have at least solidified the fourth place spot. What happens with us from this point is yet to be determined."
Brownwood – seeking its 12th straight postseason berth – is coming off perhaps its most complete outing of the season. Against Alvarado, the Lions generated 424 yards – 218 rushing and 206 passing – with just one turnover. Defensively, Brownwood gave up 213 yards – 149 through the air and just 64 on the ground – and forced a pair of turnovers. The Lions also committed just two penalties and punted once.
"We had moments of rust, but it was a pretty dominant night," Burnett said. "I was pretty pleased because we had our backs against the wall and we had to win that ball game and we came out and played extremely well I thought for two days of practice."
In Life's lone district win over Alvarado, the Mustangs finished with 301 yards of total offense – 210 passing and 91 rushing. Quarterback Colby Grmela completed 14 of 24 passes for 210 yards with one touchdown and two interceptions. De'Tyrian McCoy rushed for 112 yards and a touchdown, while the rest of team finished with -21 yards on six carries.
Defensively, Life gave up 295 yards – 172 rushing and 123 passing – but forced five turnovers. Shar'juan Daniels led the Mustangs with 18 tackles, a sack and an interception, while Darius Fuller chipped in 10 tackles with one sack.
"They're an extremely athletic team, they have a great track program, they've got some kids that can really scoot, and they're big up front," Burnett said.
For the season, the Mustangs average just 16 points and 241 yards – 172 passing and 69 rushing – per game.
Grmela (520 yards, 3 TDs, 4 INTs) and Kaden Mayfield (709 yards, 5 TDs, 5 INTs) have shared time at quarterback, while receiving threats include McCoy (26-437, TD)
Christopher Gillespie (23-274, 3 TDs), Elyjah Berry (12-117), Kendal Barnes (11-136), Fuller (9-113), Dreylon DeQuire (8-154, 2 TDs), and Jalen Mann (7-203, 2 TDs). Berry (238 yards, 4 TDs) and McCoy (180 yards, 1 TD) are the top rushers.
"They have big play capability," Burnett said. "(McCoy) does a great job running the football, they flare him out of the backfield, they'll line him up as a single and throw the fade to him, he's a very talented young man."
Brownwood counters with a defense that allows 32 points and 370 yards – 238 rushing and 132 passing – on average, with 11 takeaways.
Standouts include Khyren Deal (92 tackles, 1 for loss, 1 INT), Reece Bolton (56 tackles, 3 for loss), Malachi Revada (48 tackles, 1 for loss, 2 INTs), Kris Hobbs (42 tackles, 3 for loss, 1 sack, 1 FR), Dryden Anderson (37 tackles, 5 for loss), Taylor Bessent (31 tackles), Blaize Espinoza (28 tackles, 1.5 for loss, 1.5 sacks, 1 FR), Konlyn Anderson (24 tackles, 2 for loss), Zach Bond (22 tackles, .5 for loss, 1 sack), Trevor Evans (18 tackles, 1 sack), Hunter Day (18 tackles, 2 INTs, 1 FR), and Royshad Henderson (17 tackles).
Defensively, Life is giving up 41 points on average with 6 sacks and 14 takeaways – 8 interceptions and 6 fumble recoveries.
Leading the charge are Daniels (123 tackles, 6.5 for loss, 2 sacks), Jamal Whitman (60 tackles, 2 for loss), Sevin Butler (48 tackles, 5.5 for loss), Mann (39 tackles, 2.5 for loss, 1 sack), Fuller (39 tackles, 5 for loss, 1 sack) and DeQuire (34 tackles, 3 INTs)
Behind the offensive line of Brad Robinson, Jimi Brown, Ethan Pesina, Logan Gillem and Jared Northcutt, the Lions offense is generating 28 points and 295 yards – 149 passing and 146 rushing – per outing, with 18 turnovers.
Espinoza has completed 30 of 54 passes for 608 yards, with six touchdowns and four interceptions, while Henderson has rushed for 945 yards and 14 touchdowns. Primary receiving threats include Jason Jackson (24-523, 7 TDs), Dane Johnson (21-234), Elias Huerta (11-105), and Malachi Revada (6-65).

"They're big on the defensive line," Burnett said. "Brent Arnold is their bell cow on defense. He plays offense as well. Jeremiah Johnson is another one that takes the double teams and holds their spot and lets the linebackers play. They play a 4-3 which is what we saw last week which is good for us. They play a lot of man coverage, they're going to play either press man or off man and say we're better athletically than you are. Every once in a while they'll get in a cover 3 look or a man 3 look, if you get in trips they'll play the same coverage we saw last week. I don't think they'll do that this week because I think they'll see what we did to that secondary and I don't think they'll run the same coverage, I think they'll either play man or mix it up a bit. We'll see what they do and we'll attack it accordingly. If we can move the football on the ground and control the clock, that'll be big for us."
According to Harris Ratings Weekly, Brownwood is a 21-point favorite.
Brownwood Lions Football 2020 Season Stats
Through 7 Games (3-4, 1-1)

TEAM OFFENSE
28.0 points per game (196)
295.0 yards per game (2,065)
146.2 rushing yards per game (1,024)
148.8 passing yards per game (1,041)

PASSING
‒ Blaize Espinoza
30 of 54 for 608 yards, 6 TDs, 4 INTs
‒ Chance Jones
42 of 67 for 433 yards, 2 TDs, 4 INTs
RUSHING
‒ Royshad Henderson
945 yards on 139 carries, 14 TDs
‒ Blaize Espinoza
48 yards on 22 carries, 1 TD
‒ Konlyn Anderson
41 yards on 9 carries
‒ Chance Jones
26 yards on 40 carries, 1 TD
‒ Dane Johnson
–7 yards on 2 carries
‒ Team
–29 yards on 4 carries
RECEIVING
‒ Jason Jackson
24 catches for 523 yards, 7 TDs
‒ Dane Johnson
21 catches for 234 yards
‒ Elias Huerta
11 catches for 105 yards
‒ Malachi Revada
6 catches for 65 yards
‒ Royshad Henderson
6 catches for 62 yards, 1 TD
‒ Khyren Deal
2 catches for 48 yards
‒ Jackson Huff
1 catch for 1 yard
TEAM DEFENSE
32.5 points per game (228)
370.6 yards per game (2,594)
238.0 rushing yards per game (1,666)
132.6 passing yards per game (928)

TACKLES
‒ Khyren Deal
92 tackles, 1 for loss, 1 INT
‒ Reece Bolton
56 tackles, 3 for loss
‒ Malachi Revada
48 tackles, 1 for loss, 2 INTs
‒ Kris Hobbs
42 tackles, 3 for loss, 1 sack, 1 FR
‒ Dryden Anderson
37 tackles, 5 for loss
‒ Taylor Bessent
31 tackles
‒ Blaize Espinoza
28 tackles, 1.5 for loss, 1.5 sacks, 1 FR
‒ Konlyn Anderson
24 tackles, 2 for loss
‒ Zach Bond
22 tackles, .5 for loss, 1 sack
‒ Trevor Evans
18 tackles, 1 sack
‒ Hunter Day
18 tackles, 2 INTs, 1 FR
‒ Royshad Henderson
17 tackles
‒ Jordan Leach
16 tackles
‒ Zaiden Lopez
16 tackles, 1 for loss, 1.5 sacks
‒ Tyler Tiner
16 tackles, 2 for loss
‒ Christian Chambers
16 tackles, 1 FR
‒ Chance Jones
10 tackles, 1 INT
‒ Cade Jetton
10 tackles, 1 for loss, 1 FR
‒ Spencer Scull
9 tackles
‒ Elias Huerta
8 tackles
‒ Dane Johnson
8 tackles
‒ Baylor Tidwell
4 tackles
‒ Ethan Pesina
3 tackles
‒ Roman McKibbon
3 tackles
‒ Jackson Huff
2 tackles
‒ Case Markham
2 tackles
‒ Brannon Burleson
1 tackle
‒ Jimi Brown
1 tackle
‒ Logan Gillem
1 tackle

TURNOVER MARGIN: (–8)
Brownwood 19 — 11 fumbles, 8 INTs
Opponents 11 — 5 fumbles, 6 INTs