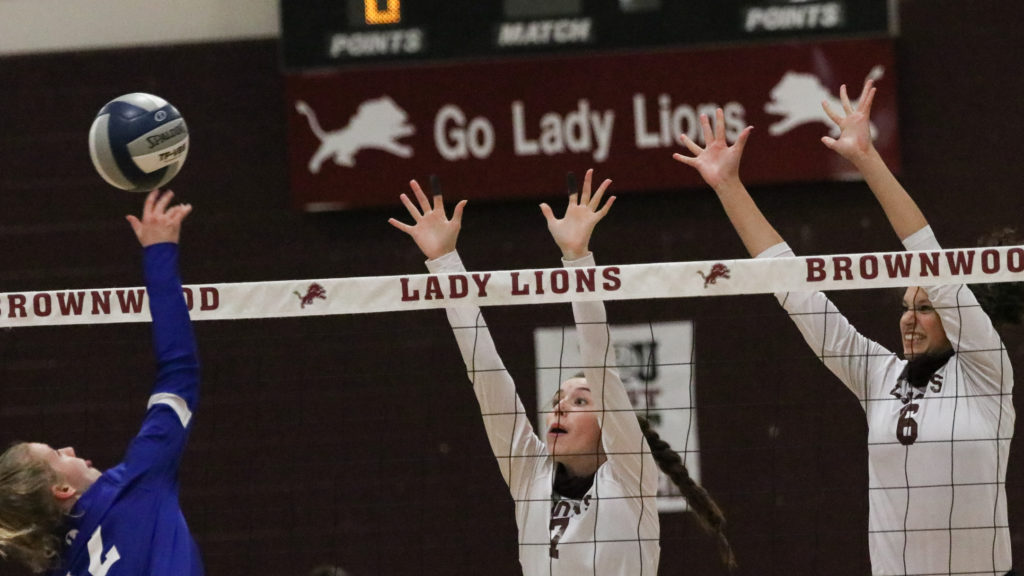 LAMPASAS – The Brownwood Lady Lions bounced back from their first District 6-4A volleyball loss and remained atop the league standings with Stephenville thanks to a 25-17, 25-13, 25-13 victory at Lampasas Friday.
"The girls came together and played liked we needed them to tonight," said Lady Lions second-year head coach Allison Smith. "I'm proud of them and the way they earned their own points tonight."
Olivia Fowler recorded a team-high 10 kills for the Lady Lions trailed by seven from Katelyn Windham, six each from Kylie Morris, Tessa Goodwin and Ashlyn Storm, and three by Jaylen Savage.
Goodwin logged 15 assists followed by 14 from Kylie Wooten, and four from Ashlyn Harris.
Gracie Boswell served five aces while Goodwin added three, Wooten chipped in two and Morris and Kassidy Wooten contributed one apiece.
Defensively, Caitlyn Moody led the way with 17 digs followed by seven from Kylie Wooten, six from Fowler, five each from Kassidy Wooten, Goodwin and Boswell, and one apiece by Morris, Harris, Storm, Windham, and Savage.
At the net, Savage recorded two blocks while Fowler and Goodwin each added one.
Brownwood's JV and freshman teams also picked up wins over Lampasas.
"Our freshman and JV teams had huge wins tonight in well-fought games and I'm proud of our entire program tonight," Smith said.
The Lady Lions (11-6, 5-1) visit Gatesville at 6 p.m. Tuesday, then close the regular season at Stephenville at 5:30 p.m. Friday in a match that could determine the 6-4A champion.