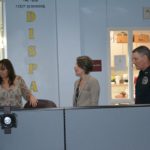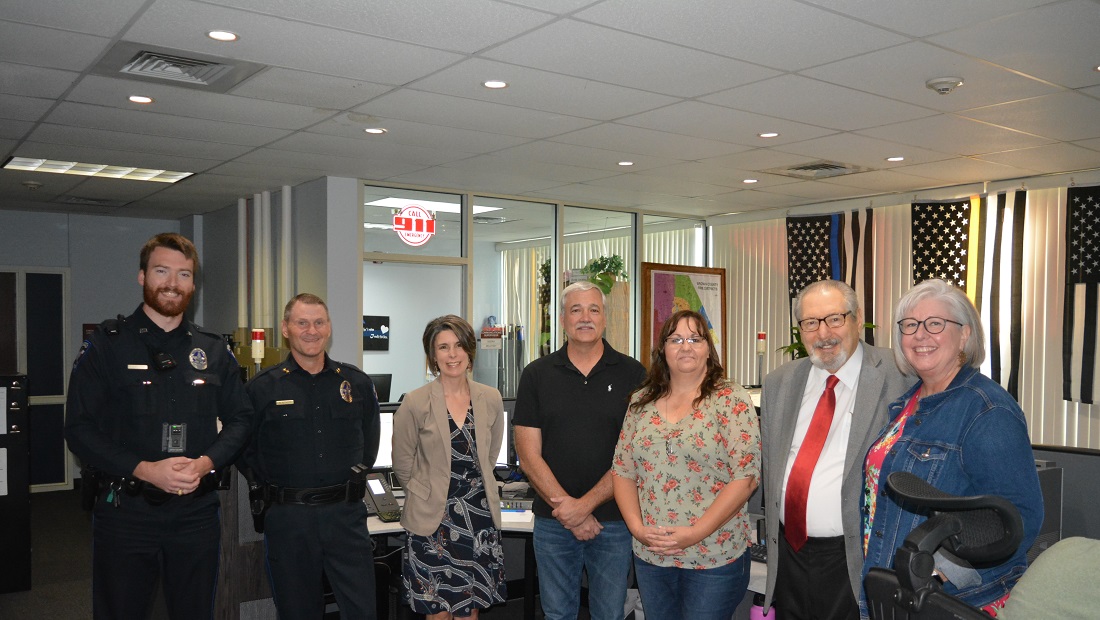 Left to Right – Brownwood PD Officer Steven Dekeratry, Brownwood Police Chief Ed Kading, Brownwood City Manager Emily Crawford, Joe Rogers with West Central Texas Council of Governments, Communications Manager Deedra Molotsky, Tom Smith with West Central Texas Council of Governments and Patti Davis with the West Central Texas Council of Governments.
When you have an emergency, and reach out to 911, there is a dedicated group of women and men who take your call and send the appropriate emergency personnel to the scene.  If you can't call 911, you can also text 911 and your call will be handled through text communication.  They also handle radio communications with law enforcement, fire and ambulance services throughout the county. There are 16 dispatchers who work in three shifts.  Each shift has a supervisor.
"There's a lot of training, a lot of training.  It takes a full year to really learn and fully understand.  There are different classes that we have to go to and every two years you have continuing education," said Deedra Molotsky, Communications Manager.
A few days ago, dispatch moved back into their normal operating location inside the Brown County Law Enforcement Center after a month of remodeling.  A small reception was held Thursday morning to celebrate the recent remodeling of the 911 dispatch center.
"We had electricians, we had carpet people, we had IT in here," said Molotsky.  The dispatch center was in a temporary location elsewhere in the building while the upgrades were made.  The project totaled about $80,000, according to Assistant Police Chief James Fuller.  Molotsky gave special recognition to dispatch employees Aaron McNeely, Charity Graves and Jonna Acosta who helped box, pack and move the old furnishings and old electronics.  "I couldn't have done it without them," Molotsky said.
The new improvements will greatly enhance the ability of the dispatch team.  The dispatch center has received new wiring, new consoles, new furniture and new carpet.  Still to come, next year, will be installation of the new countywide radio communications system recently approved by Brown County and the cities of Bangs, Early and Brownwood.
"The Council of Governments is where we get our 911 funds from.  They have grants that we can apply for and that's how we were able to get the furnishings.  I believe the City also got a grant for the new carpet," Molotsky said.  She added that a dispatcher who does artwork added a special touch inside the dispatch center which was funded by the City of Early.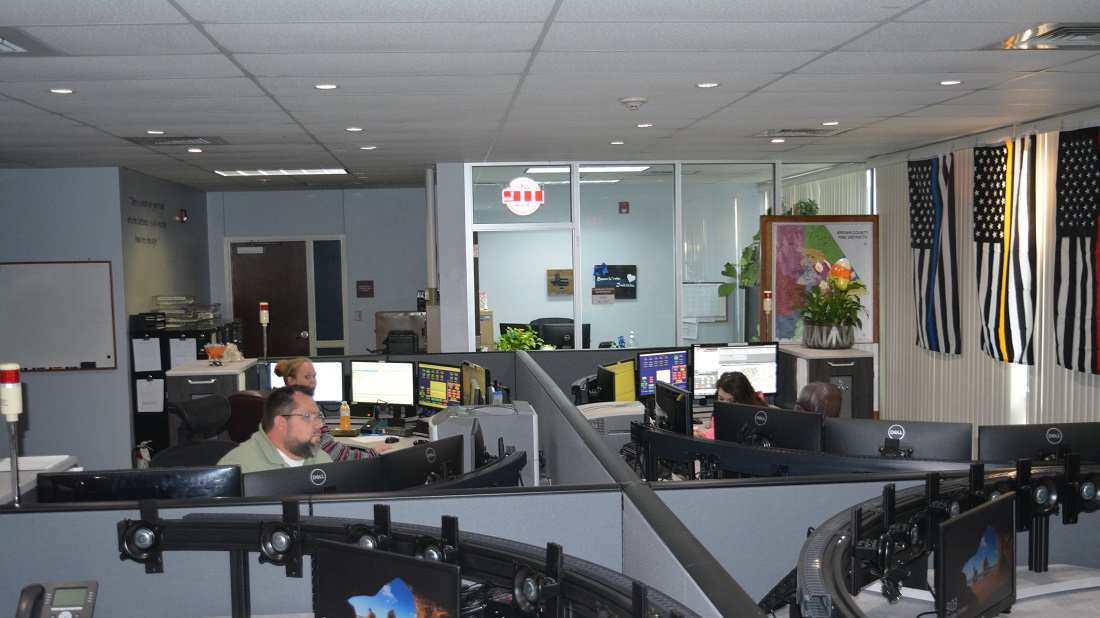 Photo – Three communications officers are shown at their workstations inside the 911 dispatch center in Brownwood.