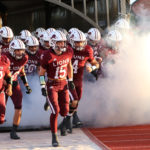 The Brownwood Lions enter homecoming week and their non-district finale in a unique position, as they will host an opponent yet to play a game in the 2020 football season.
The Lions (2-2), fresh off a 36-22 come-from-behind victory at Burnet, welcome the Class 5A Division II Abilene Wylie Bulldogs (0-0) to Gordon Wood Stadium at 7:30 p.m. Friday. Due to the UIL guidelines involving COVID-19, the start of the Class 5A and 6A regular seasons was delayed to this week.
"For them I think the disadvantage is really not totally knowing who they are and what they're about until they face an opponent and playing four quarters," said Lions third-year head coach Sammy Burnett. "For us, the disadvantage is they have seen us play every game, they know what we do and what we're about. They're going to be more educated on that end than we are, but we have an outstanding coaching staff and we'll adjust quickly and put our kids in the best position to be successful."
Wylie scrimmaged Class 6A Abilene High in its lone tune-up for the Bulldogs' first season under new head coach Clay Martin, who replaces Hugh Sandifer after a 30-plus-year stint.
"He's putting a little spin on their system, they're an RPO type team now," Burnett said of Martin. "They're going to run the football and throw the RPO off of it, which they didn't do that much of in the past. He has a couple of baseball kids coming out that haven't played in the past, of course he's been their baseball coach there for a long time now.
"I've had a great opportunity to visit with Clay a lot during this COVID situation, and I gave him a lot of information on how we were doing things and we were bouncing ideas back and forth. I'm just trying to help another fellow coach out in his first run at being an AD. I've built a great relationship with him, we've put together a lot of games with junior highs and sub-varsities to benefit both programs. He's a great man, a great leader, and I wish him all the luck in the world. But I don't wish him any luck on Friday."
The Lions scored a season-high 36 points at Burnet last week, with 29 coming in the second half – including the final three touchdowns of the contest. Behind the line of Brad Robinson, Jimi Robinson, Ethan Pesina, Jared Northcutt and Logan Gillem, Royshad Henderson rushed for a career-high 253 yards with three touchdowns.
For the season, the Lions are averaging 27 points and 274 yards per game, with 157 of those yards coming on the ground. Henderson has amassed 572 yards on 88 carries – an average of 6.5 yards per tote – with nine touchdowns.
Through the air, Chance Jones has connected 28 of 48 pass attempts for 285 yards with two touchdowns and a pair of interceptions. Primary receiving targets include Dane Johnson (14-135), Jason Jackson (9-171, 3 TDs), Elias Huerta (6-48), Henderson (5-64, TD), and Khyren Deal (2-48).
Brownwood will face a Wylie defense that has shown a variety of looks during its preseason.
"Defensively, I saw them in a 4-3, a 4-2-5, a 3-4 and a 3-3 stack," Burnett said. "We're not sure what we're going to get out of them. We don't know if they are dictating that off formations but we'll figure it out quickly and we'll get in multiple formations to try and figure out what they're going to base out of and adjust accordingly."
The Lions defense is coming off its second-best outing in four games, but still yields 32 points and 352 yards — 276 rushing and 76 passing – per game, with seven takeaways.
Standouts include Deal (53 tackles, 1 for loss), Reece Bolton (32 tackles, 3 for loss), Malachi Revada (31 tackles, 1 for loss, 2 INTs), Kris Hobbs (29 tackles, 3 for loss, 1 sack, 1 FR), Blaize Espinoza (22 tackles, 1.5 for loss, .5 sacks, 1 FR), Dryden Anderson (18 tackles, 2 for loss), Hunter Day (17 tackles, 1 INT), Zach Bond (14 tackles, .5 for loss), and Konlyn Anderson (14 tackles).
Wylie's offense is led by quarterback Balin Valentine and features a few new wrinkles.
"Their quarterback did a good job in the scrimmage, Valentine, who played for them last year," Burnett said. "They have a totally different look at quarterback from what we've seen before. They're big up front, offensive line-wise they are very physical. They're going to get in more 3×1 and 2×2 formations, and they'll also get in a 2x1 with a sniffer set, sort of what we look like. They predicate their offense on running the football and trying to be physical, and then they try and throw the ball down the field."
The Bulldogs feature a veteran roster, which could allow them to find their stride earlier than one might anticipate.
"They have 61 kids on their roster and 37 are seniors so they have a lot of experience," Burnett said. "They are at a disadvantage for one reason and that's this is their first game. They haven't had the opportunity to go out and execute in a game type setting.
"On the other hand, we've played four games already and have gone out and tried to develop our team and execute in a game type setting. We've also been able to play for four quarters. For us, not knowing what they're doing is a little disadvantage but we'll be fine. Our kids have practiced extremely hard."
According to Harris Ratings Weekly. Brownwood is a 19-point favorite.
Brownwood Lions 2020 Season Stats
Through 4 Games (2-2)
TEAM OFFENSE
27.0 points per game (108)
273.8 yards per game (1,095)
156.5 rushing yards per game (626)
117.3 passing yards per game (469)

PASSING
‒ Chance Jones
28 of 48 for 285 yards, 2 TDs, 2 INTs
‒ Blaize Espinoza
9 of 20 for 184 yards, 2 TDs
RUSHING
‒ Royshad Henderson
572 yards on 88 carries, 9 TDs
‒ Chance Jones
63 yards on 30 carries, 1 TD
‒ Konlyn Anderson
1 yard on 1 carry
‒ Blaize Espinoza
–2 yards on 4 carries
‒ Team
–3 yards on 1 carry
‒ Dane Johnson
–5 yards on 1 carry
RECEIVING
‒ Dane Johnson
14 catches for 135 yards
‒ Jason Jackson
9 catches for 171 yards, 3 TDs
‒ Elias Huerta
6 catches for 48 yards
‒ Royshad Henderson
5 catches for 64 yards, 1 TD
‒ Khyren Deal
2 catches for 48 yards
TEAM DEFENSE
31.8 points per game (127)
352.0 yards per game (1,408)
276.0 rushing yards per game (1,104)
76.0 passing yards per game (304)

TACKLES
‒ Khyren Deal
53 tackles, 1 for loss
‒ Reece Bolton
32 tackles, 3 for loss
‒ Malachi Revada
31 tackles, 1 for loss, 2 INTs
‒ Kris Hobbs
29 tackles, 3 for loss, 1 sack, 1 FR
‒ Blaize Espinoza
22 tackles, 1.5 for loss, .5 sacks, 1 FR
‒ Dryden Anderson
18 tackles, 2 for loss
‒ Hunter Day
17 tackles, 1 INT
‒ Zach Bond
14 tackles, .5 for loss
‒ Konlyn Anderson
14 tackles
‒ Jordan Leach
12 tackles
‒ Christian Chambers
11 tackles, 1 FR
‒ Taylor Bessent
11 tackles
‒ Zaiden Lopez
10 tackles, 1 for loss, 1.5 sacks
‒ Royshad Henderson
9 tackles
‒ Spencer Scull
7 tackles
‒ Chance Jones
7 tackles
‒ Tyler Tiner
7 tackles
‒ Elias Huerta
6 tackles
‒ Cade Jetton
5 tackles, 1 FR
‒ Baylor Tidwell
4 tackles
‒ Dane Johnson
3 tackles
‒ Case Markham
2 tackles
‒ Roman McKibbon
2 tackles
‒ Ethan Pesina
2 tackles
‒ Trevor Evans
2 tackles
‒ Jimi Brown
1 tackle

TURNOVER MARGIN: (+1)
Brownwood 6 — 5 fumbles, 1 INT
Opponents 7 — 4 fumbles, 3 INTs