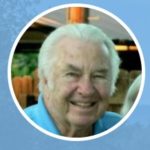 John Reeves Rudder, 85 of Brady, passed away Monday, September 21, 2020 at his residence in Brady.  He was born January 10, 1935 in Brownwood, Texas to John Rudder and Derie (Reeves) Rudder.  He was a pharmacist and member of St. Paul's Episcopal Church in Brady.
Graveside service will be Saturday, September 26, at 1:00 pm at Rest Haven Cemetery in Brady.  Interment with Masonic Rites.
Mr. Rudder will lie in state Friday from 9:00 am to 6:00 pm at Leatherwood Memorial Chapels in Brady.
Survivors:
Wife – Elizabeth Rudder of Brady
Son – John White Rudder and wife Veronica of El Paso
Daughters – Susan Rudder of Waco, Lynn McCarson and husband Mike of Mountain Home, Texas.
Sister – Janet Bryant and husband Bob of Richardson
Grandchildren – John Patrick Rudder, Alexandra Rudder and Amanda Niemeyer
Great-Grandchildren – Brady Niemeyer and Bailey Niemeyer
Nephews – Robbie Bryant and Bill Bryant
Niece – Nancy Bryant
Preceded in death by his parents
Memorial contributions in memory of John Reeves Rudder may be made to the charity of your choice.