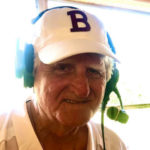 Following a three-week absence, the "Voice of the Lions" resumes his 58th season of broadcasting Brownwood football as Dallas Huston returns to the booth for Friday night's homecoming game against Abilene Wylie.
Huston, 78, has missed the last three Brownwood Lions broadcasts after showing symptoms of COVID-19 during the season-opening game at Lampasas. Huston was later confirmed to have contracted the virus.
"I feel pretty good," Huston said in a Thursday morning phone interview. "I'm not terribly strong, but health-wise I feel pretty good. I still have breathing issues and it may be something that stays with me. I have asthma and COPD so this on top on that kind of weighed me down. I'm just now getting my lung capacity back a little bit, but I feel OK.
"I've tried to make real sure I haven't tried to do this too quick. I've tried to be very, very careful. I'm probably not going to be doing a lot of yelling and screaming, so I hope it's a boring win for the Brownwood Lions," Huston added with a laugh.
Regarding his return to the booth, Huston said, "To be honest, I've missed it but I haven't really missed it because I knew I was too sick to do it. It wasn't like I was having this mental battle every week, I knew I couldn't do it."
The three-game absence is the longest of Huston's career, who said he had missed about five games total in his previous 57 years of calling Lions football.
"I'm pretty sure I've never missed two in a row to be honest with you, certainly not two football games," Huston said. "I may have missed a couple of basketball games in a row, but I don't even remember that. Football wise, I've never missed more than one in a row."
Huston and his wife Linda, who also contracted COVID-19, wanted to thank those who have reached out over the past few weeks.
"I just appreciate so much the people praying for me and thinking about me," Huston said. "I appreciate all the cards and notes of encouragement. It's very, very special. Sometimes it takes something like this to find out a lot of people care about you. If there's any one positive about this, you find out a lot of people care about you."