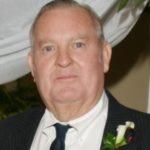 Bonny Ray Whitfield, age 84, of Coleman went to be with his Lord and Savior, surrounded by his family on September 22, 2020, at Holiday Hill Nursing Home.
The family will host a visitation from 6:00 p.m. to 8:00 p.m. on Friday, September 25, 2020 at Stevens Funeral Home Chapel.  Services will be held at 2:30 p.m. on Saturday, September 26, 2020 at Stevens Funeral Home with Rev. Doug Whittington, pastor of Central Baptist Church of Coleman, officiating.  Masonic graveside services will follow at the Coleman City Cemetery.  Services are entrusted to Stevens Funeral Home, 400 W. Pecan Street, in Coleman.
Bonny Ray Whitfield was born March 15, 1936, in Coleman County to Felix Elvin and Essie Higgins Whitfield.  Bonny graduated from Coleman High School in 1955, where he played sports throughout school and was voted Mr. CHS by his classmates.  He married the love of his life Carrie Mae Blair on September 15, 1956 in Coleman, TX.  Bonny and Carrie recently celebrated 64 years of marriage.  Bonny was a member of the Coleman Masonic Lodge #496 for 53 years.  He was an active member of the Central Baptist Church, where he served as a deacon and on various committees for over 65 years.
Bonny began working at Martin Brick Plant in 1955 where he started stacking bricks; over the course of 35 years, he moved from production to driving a truck to the office manager.  He also worked at Dal-Tile, Bodoodle, Stemples and C.A.R.R. until his retirement in 2008.
Bonny was an avid bowler, enjoyed dominos and piddling around in his "little house." He followed Texas High School Football and Basketball, his Baylor Bears, and the Dallas Cowboys.
Pops loved and enjoyed all of his children, grandchildren, and great granddaughter.  He did everything he could to provide for and take care of his family. He rarely missed an event that the grandkids participated in.
Bonny was a man of his word, never hesitated in helping someone and never met a stranger.  He will be greatly missed by his family and friends as well as many others.
He is survived by his wife, Carrie; three daughters, Cynthia and Leonard Winfield of Abilene; Tracy Rankin and Kathy Whitfield of Coleman; three grandchildren, Melissa and Jason Johnson of Decatur; Stephanie Rankin of Kingsland; and Kolton and Rachel Titsworth of Coleman; great grandchild, Aubree Titsworth of Coleman; step-grandchildren, Christy and Andrew Baron of Levelland; Lisa Winfield of Hollywood, FL; and Jason Winfield of Levelland; brothers, Bill Whitfield of Coleman and Paul Pels of Pilot Point; sister, Alma Balli of Huntington Beach, CA; brother and sister in law, Eurell and Delma Blair of Santa Anna; sister in laws, Shirley Burrow of Coleman and Maydell Jennings of Wharton; cousins, Jonita Mann of Coleman and David Smith of Kermit; numerous nieces and nephews.
Bonny was preceded in death by his parents; brother, Jerry Wayne (Bud) Whitfield; two sisters, Hazel Farmer and Alta Mae Whitfield; son in law, Derry Rankin.
Pallbearers will be Kolton Titsworth, Jason Johnson, Kelly Benedict, Mike Montgomery, Curtis Garrett, and John Baum.  Honorary Pallbearers will be Lang Martin, Jack Baucom, Bill Merryman and Ollie Roberson.
The family requests, in lieu of flowers, donations can be made in memory of Bonny to Central Baptist Church, 201 W. Mesquite, Coleman, Texas 76834.
His Lord said unto him, well done, good and faithful servant. Matthew 25:23
Remembrances, condolences, and messages of comfort can be expressed to the family at www.livingmemorials.com.  Stevens Funeral Home is honored to serve the Whitfield family.