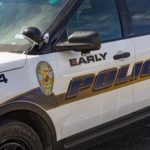 The Early Police Department issued the following press release Wednesday morning:
On Tuesday September 22nd, Early Police Officers responded to an apartment complex in the 1000 block of Early Blvd. regarding an unwanted person in a reportedly vacant apartment. The apartment manager reported that no one was supposed to be in the apartment however there were 3 people inside. Officers went to the apartment to make contact when one person ran up to the 2nd floor then jumped from the 2nd floor window while trying to get away from officers. The subject, Dylan Scott Craig, was immediately taken into custody after hitting the ground. He was also found to be in possession of a meth pipe that had a small amount of methamphetamine in it. Craig complained of pain to his foot and was transported by EMS to the ER where he was treated and released for a broken foot. Dylan Craig was taken to the Brown County Jail for 2 Felony warrants and additional charges of possession of controlled substance and Evading arrest.
While officers were dealing with Craig at the apartment a 16-year-old female began interfering with the arrest and was placed under arrest herself at which time she began resisting and struggling with officers. The 16 year old female was taken to Juvenile probation and charged with interfering with public duties and resisting arrest. The 3rd person was released.