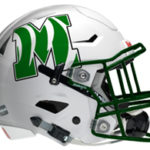 EDEN – The Class A Division I No. 7 The May Tigers avenged last year's season-ending loss to Nueces Canyon with a 48-0 victory here Saturday night, improving to 3-1.
The Tigers led 16-0 after one quarter and tacked on 32 points in the second to end the game at halftime via the 45-point mercy rule.
May finished with 273 yards of total offense – 203 rushing and 70 passing.
On the ground, Kaden Halk led the way with 85 yards and a touchdown followed by Rory Bustamante with 48 yards and a score, Aaron McGinn with 24 yards, Blake Harrell with 17, Damian Salinas with 9, Isidro Salinas with a 7-yard score, Hayden King with 7 yards and Korbin Bass with 6 yards and a touchdown.
Through the air, Bustamante connected on all three of his pass attempts for 60 yards and two touchdowns, while Harrell was 3 of 4 for 10 yards.
Keith Cross caught a 33-yard touchdown, Chris Flenniken added two grabs for 29 yards and scored once, Harrell added a 9-yard catch and Ethan Self finished with a 5-yard reception.
Defensive standouts for May included King (9 tackles, 4 tackles for loss, and a fumble caused), Isidro Salinas (5 tackles, a pass defended, and a tackle for loss), Flenniken (5 tackles, a fumble recovered, and 3 tackles for loss), Harrell (5 tackles), Brian Kunkel (2 tackles), Bustamante (1 tackle), Aaron McGinn (1 tackle), Bass (1 tackle), Lane McGinn (1 tackle), and Jayce Blankenship (1 tackle).
On Friday, May visits reigning Class A Division I state champion, Blum which is off to a 2-1 start following Friday night's 53-18 loss to Jonesboro.