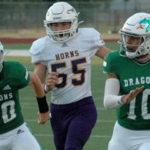 The Bangs Dragons have yet to experience defeat in 2020 and looks to keep their unblemished record intact as they visit the winless Winters Blizzards Friday night. Kickoff between the Dragons (2-0) and Blizzards (0-2) is slated for 7:30 p.m. in Winters.
The Dragons have knocked off Early, 28-0, and Florence, 55-0, while the Blizzards have fallen to Anson, 34-22, and Eldorado, 51-19.
"They're definitely one of the better teams that hasn't got in the win column yet," Bangs third-year head coach Kyle Maxfield said of Winters. "Anson jumped on them early, and then Eldorado big-played them and got them behind the eight ball. When you run that type of offense and get behind early sometimes you struggle."
Winters has shifted from the Air Force veer to more of a pistol look, but continue to be a run heavy offense.
In last week's loss to Eldorado, the Blizzards finished with 306 yards of total offense, including 264 rushing, but turned the ball over five times – three interceptions and two fumbles. Winters spotted Eldorado a 38-0 advantage.
"They're still running the same plays," Maxfield said. "The quarterback that started the first game. He can go pretty good. Their other quarterback did a great job operating the offense as well. Defensively they base out of the 50, they'll stunt on you and do a good job of mixing it up. They're solid, they're not your typical 0-2 team. They had a couple of key players out against Eldorado, their quarterback and their center who was probably their best lineman. We expect those guys to be back for them to be hungry for a win."
Bangs defense has yet to yield a point and is giving up just 121 yards – 80.5 passing and 40.5 rushing – per outing. Standouts on the defense include Damian Santillanes (18.5 tackles, 2 for loss, 1 sack), Ethan Sanchez (17 tackles, 1 INT, 1 FR), Brayton Wedeman
(12.5 tackles, 1 INT), Charlie Smith (10 tackles, 1 for loss), Logan Bishop (10 tackles, 1 for loss), Trey Ivey (7 tackles), Donovan Ruiz (7 tackles, 1 for loss), Wyatt Lykins (6.5 tackles), Braden Montgomery (6 tackles, 1 for loss), and Trevor Bowers (6 tackles).
Offensively, the Dragons put up 566 yards against Florence last week. For the season, Bangs averages 41.5 points and 454 yards – 269.5 rushing and 184.5 passing – per outing.
Sanchez has rushed for 300 yards and four touchdowns followed by quarterback Ethan Cortez with 100 yards and a touchdown, Guy Powell with 87 yards and Harley Keely with 36 yards. Cortez has 13 of 20 passes for 369 yards with six touchdowns, while leading receivers include Wedeman (4-167, 3 TDs), Sanchez (3-134, 2 TDs), Powell
(2-34), Santillanes (2-9), and Bowers (1-25, TD).
"What's been big for us has been creating turnovers on defense and not turning the ball over on offense," Maxfield said. "Offensively, that comes with playing experience and knowing how important it is to take care of the ball. We emphasize that, and the penalties haven't been too bad. The balanced attack on offense has also benefit us. That's the key for us to take it to the next level, continue to spread the wealth. Cortez has done a good job with that and Sanchez is our workhorse. Plus we have some others that can contribute a great deal."
Among the biggest keys for the Dragons, according to Maxfield, is another fast start that put the Winters offense in an uncomfortable position.
"Against this type of offense, first down on defense is big," Maxfield said. "If you get them in second and long and third and long they really don't want to be in that situation. We need to playing with our eyes open up front, see the blitzes and pick them up coming off the ball We also need to get better with our pad level, and finishing blocks, and taking care of the ball is always big. But first down on defense will be critical, along with creating turnovers."
According to Harris Ratings Weekly, Bangs is a 28-point favorite.
Bangs Dragons 2020 Football Stats
Through 2 Games (2-0)
TEAM OFFENSE
41.5 points per game (83)
454.0 yards per game (908)
269.5 rushing yards per game (539)
184.5 passing yards per game (369)
PASSING
‒ Ethan Cortez
13 of 20 for 369 yards, 6 TDs
RUSHING
‒ Ethan Sanchez
300 yards on 26 carries, 4 TDs
‒ Ethan Cortez
100 yards on 16 carries, 1 TD
‒ Guy Powell
87 yards on 16 carries
‒ Harley Keely
36 yards on 6 carries
‒ Damien Santillanes
11 yards on 2 carries
‒ Tait Bowers
5 yards on 1 carry
RECEIVING
‒ Brayton Wedeman
4 catches for 167 yards, 3 TDs
‒ Ethan Sanchez
3 catches for 134 yards, 2 TDs
‒ Guy Powell
2 catches for 34 yards
‒ Damien Santillanes
2 catches for 9 yards
‒ Trevor Bowers
1 catch for 25 yards, 1 TD
TEAM DEFENSE
0.0 points per game (0)
121.0 yards per game (242)
40.5 rushing yards per game (81)
80.5 passing yards per game (161)
TACKLES
‒ Damian Santillanes
18.5 tackles, 2 for loss, 1 sack
‒ Ethan Sanchez
17 tackles, 1 INT, 1 FR
‒ Brayton Wedeman
12.5 tackles, 1 INT
‒ Charlie Smith
10 tackles, 1 for loss
‒ Logan Bishop
10 tackles, 1 for loss
‒ Trey Ivey
7 tackles
‒ Donovan Ruiz
7 tackles, 1 for loss
‒ Wyatt Lykins
6.5 tackles
‒ Braden Montgomery
6 tackles, 1 for loss
‒ Trevor Bowers
6 tackles
‒ Guy Powell
4.5 tackles
‒ Harley Keely
4 tackles
‒ Trevor Lorah
2.5 tackles
‒ Jesse Sterling
2 tackles
‒ Tait Bowers
2 tackles
‒ Evan Belez
1 tackle, 1 INT
‒ Austin Tilley
1 tackle
‒ Jackson Light
1 tackle
‒ Logan Massey
1 tackle
‒ Dakota Baker
1 tackle
‒ Braxton Melling
.5 tackle, 1 FR