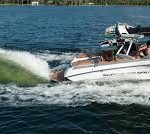 Brownwood News – The Board of the Brown County Water Improvement District #1 held their August monthly meeting Tuesday before a packed house of unhappy dock owners.  The dock owners are unhappy with the large wakes created by wake surfing boats, citing damages to their docks and unsafe conditions for swimmers, and were seeking some relief from the Water Board.
Current rules on Lake Brownwood establish a no-wake zone within 150-ft. of shore or docks, but many boats, the dock owners say, ignore the buoys at 150-ft.  Also current rules impose a "No Hazard Wake Zone" in the entire area between McCartney Island and Deepwater Estates, which is also often ignored.
BCWID Manager John Allen said that he was contacted by Commander Cody Jones of the Texas Parks and Wildlife Department.  Jones explained that the Texas Boater Safety Act establishes a No Wake Zone of only 50-ft from shore or docks, and that individual lakes cannot impose a larger no wake zone than that.  The Boater Safety Act also does not allow for the No Hazard Wake Zone between McCartney Island and Deepwater Estates.
The BCWID can regulate docks, Allen said, but not boats; only the Parks and Wildlife Department can regulate boats.  Regardless of the regulations in place, he pointed out, the boat operator is responsible for any damages or injuries caused by the boat's wake.
The Board tabled any changes to the regulations, pending advice from consulting attorney Lloyd Gosselink.
Board President Dennis Graham said that the Board will consider new rules over the winter, but that their hands are tied by the Boater Safety Act.  He suggested that concerned citizens contact new State Representative Glenn Rogers, because a legislative change to the Boater Safety Act will be needed to solve this problem. "The Water Board will do all we can within the Boater Safety Act.  If you have any damage to your dock or concern for safety, call the Lake Patrol and ask them to intervene.  All we can do is educate the wake boaters and ask them to keep a greater distance from the shore and docks."
The Water Board will consider this issue again at its next meeting, September 8, at 4:00 p.m.  The Board meets at the BCWID office at 501 East Baker Street.