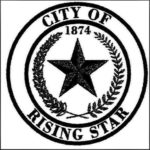 A press release from the Office of the Mayor of the City of Rising Star states Police Chief Wayne Edgin has resigned.  The release is below from Mayor Jim Carpenter as it appears on the Rising Star City Hall Facebook page.
"On Monday, July 20, 2020, Rising Star Texas Mayor, Jim Carpenter and Rising Star City Administrator, Jan Clark, met with the Eastland County District Attorney Russ Thomason and two Assistant District Attorneys.
During the meeting, the District Attorney informed Carpenter and Clark that he could no longer accept cases from Chief Wayne Edgin. The District Attorney made it very clear that the reasoning behind his decision was very justified and there would be no rescinding it. A police officer who cannot file cases with the District Attorney's office cannot effectively do his duty. Chief Edgin was called into CIty Hall and informed of the District Attorney's decision and given the opportunity to resign or face possible discipline by the City Council. Mr. Edgin decided to resign effective July 21, 2020.
The resignation of the Police Chief will be on the City Council agenda for acceptance at the City Council's next meeting which will be Monday, July 27, 2020 at 6:00 p.m."
Jim Carpenter
Mayor, Rising Star, Texas