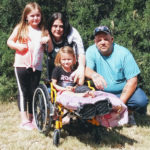 On the evening of June 28, Erica Richardson's world forever changed.
While in her front yard with her family and her best friend, a Ford F-150 pickup approached the residence, lost control and entered the yard. The vehicle struck Richardson, age 32; her 8-year-old daughter, Baylee Sharp; her 5-year-old daughter, Macyn Oliver; and her best friend, Kimberly Allen, 28, who lost her life.
Richardson was airlifted to Parkland Memorial Hospital in Dallas, the youngest child was airlifted to Cook Children's Medical Center with a broken leg, and the oldest child was taken to Brownwood Regional Medical Center.
All three are now home and recovering, but the financial burden is still weighing heavily on the family.
A benefit yard sale will take place Friday and Saturday at 2401 Southside Drive to raise money to help Richardson pay medical bills.
"We're doing the benefit yard sale to try to come up with the money," Richardson said. "The children have Medicaid, so for the most part their stuff is paid for. There are some things we are having to pay out of pocket. As for me, I have no insurance at all.
"All medical bills are coming out of pocket and we've lost our jobs due to this. I was a home health worker and a construction worker, I remodeled houses, and I'm no longer able to do that. My husband was a construction worker and remodeled houses with me, but with my 5-year-old not being able to walk he has to stay at the house. We're completely without jobs at the moment."
A variety of items will be available in the sale, and donations are welcome.
"I'm still looking for donations to put in the sale," Richardson said. "As of right now we're going to have some furniture and household items, kids and adult clothing, books, just a lot of different items.
"We'll be starting to set up on Friday and people are welcome to stop if they would like. We'll be actually having it starting at daylight Saturday through dark on Sunday. I'm also going to have a bucket at the sale if anybody just wants to do a cash donation, that way they know where the money is going to."
Those who would like to donate items for the sale can do so two ways, according to Richardson.
"They can call my mother, Linda Nichols, at 325-642-4471," Richardson said. "She's doing a wonderful job helping me and my husband deal with everything currently. Any items to sell are more than welcome to be brought by the house at any point in time. If they'd like they can just
sit them in the yard and I'll know what that's for."
Richardson also provided an update on her condition, and that of her family.
"I had surgery on Wednesday the 15th, we had Kim's viewing on Friday and her funeral was on Saturday," Richardson said. "Physically I'm getting better. There's still a chance I'm going to lose my thumb because an infection has set in. There are trying a second antibiotic on me but if the infection doesn't go away they're looking into possibly having to remove that thumb.
"They put a metal rod in my pinky. The metal is sticking out so they can pull it out once the bone heals back together. And my pointer finger, the tip of it is actually crushed.
"In the mornings I do wake up crying begging my husband to help me get out of bed because my entire body is in pain. I am screaming from pain in the mornings. It ran over my entire left side, so that whole side hurts a lot, especially in the mornings."
"My kids are very traumatized. They don't want to be here. They want to be with Mommy, but they don't want to be here. They have been staying with their dad a lot. And my husband is traumatized because he saw everything happen."